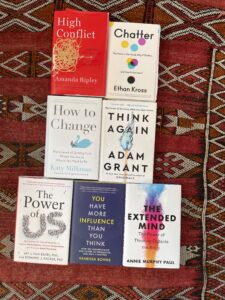 During December, my reading habits suddenly switched from non-fiction to fiction. Three novels have so engrossed me that I almost forgot about my annual custom: sharing my year's short list of favorite non-fiction books.
Here are my four books plus three more that I've started but haven't yet finished.
My criteria: Well-written business books that feature practical, actionable ideas based on science.
This year's themes: We humans are more complex and contradictory than we like to think. We also can get into trouble when we sleepwalk through life. Instead, we need to pause, query, and consider what to do next.  
1.High Conflict: Why We Get Trapped and How We Get Out by the investigative journalist Amanda Ripley. "High conflict" is what happens "when discord distills into a good-versus-evil kind of feud, with an 'us' and a 'them'," describes Ripley. Based on her research and her experience, we often get drawn into various conflicts by forces such as "conflict entrepreneurs," acts of humiliation, and black-and-white thinking and choices. These forces take over and we get so caught up in the conflict that we lose sight of the facts that led to the dispute. Then the "conflict becomes its own reality and the normal rules of engagement no longer apply." 
Ripley provides helpful examples of how to escape high conflict with minimal collateral damage. For more about the book and one of my own experiences with high conflict, check out How "high conflict" can be combustible even when you're dressed for the occasion.
2. How to Change: The Science of Getting from Where You Are to Where You Want to Be by Katy Milkman, behavioral scientist and professor at The Wharton School at the University of Pennsylvania. If you believe like I do that it can be hard to be and do good in a world that's not always good, you'll find this book helpful. In other words, the road to good intentions is paved with hell. Even if you have inspiring goals and a plan to achieve them, you can face many roadblocks, such as temptations, memory loss (a la forgetting that you made certain commitments), procrastination, lack of support, etc.
Milkman shares research studies, stories, and tips on how to overcome the challenges you'll face. For example, she suggests how making lists, being flexible, and following the path of the least resistance can help get you on a different road and in a better place.
3.Chatter: The Voice in Our Head, Why It Matters and How to Harness It by Ethan Kross, the award-winning professor in the University of Michigan's Psychology Department and its Ross School of Business and the director of the Emotion & Self Control Laboratory. For most of us, our inner voice functions well much of the time. But it also can lead to chatter—what Kross calls the cyclical negative thoughts and emotions that turn introspection into a curse.
Even worse, when your inner coach turns into an inner critic, the critic can keep repeating the same dark thought or different thoughts over and over again. To tame that inner voice and break the cycle, Kross has developed a number of sound research-based strategies that you can apply on your own or with others. I've used them successfully for years, thanks to my exposure to his work when I studied applied neuroscience. For more about my experiences and his book, check out How being a fly on the wall helps you stop your chatter.
4.Think Again: The Power of Knowing What You Don't Know by Adam Grant, the bestselling author of Give and Take and Originals and award-winning professor at The Wharton School at the University of Pennsylvania. In this book, Grant examines the critical art of rethinking: learning to question your points of view and open your mind as well as other people's minds. Historically, intelligence is viewed as the ability to think and learn, but in our rapidly changing VUCA (volatile, uncertain, complex, and ambiguous) world, we now need to rethink and unlearn.
Grant invites us to flex our thinking, including letting go of views that no longer serve us well. As one reviewer said, "If knowledge is power, knowing what we don't know is wisdom."
Three other 2021 books I'm reading are:
You Have More Influence Than You Think by the Cornell University Social Psychologist Vanessa Bohns. Her research has shown people to be overly pessimistic about their ability to persuade and influence others. For example, we tend to thing people's default is to say "no" to our requests. Yet her studies show that people are more inclined to say "yes."
The Extended Mind: The Power of Thinking Outside the Brain by Annie Murphy Paul, the well-respected science writer. She writes that "the brain works differently based on what we're doing, whom we're with, and where we are." We're able to accomplish more by thinking outside the brain by borrowing powers from our body, other people, and exposure to nature and other environmental cues.
By the way, five of these seven were selections from the Next Big Idea Club, of which I'm a charter member.
What about you? What are you reading, watching, or listening to that you want to recommend?
Oh, and here are the titles of the fiction that's mesmerized me: The Lincoln Highway: A Novel and Rules of Civility by Amor Towles, also the best-selling author of A Gentleman in Moscow. (I also couldn't put it down.) Plus CNN anchor Jake Tapper's The Hellfire Club. Next on my list is the second in his series, The Devil May Dance.
Happy New Year! And happy reading!