Topics for workshops, webinars, and keynotes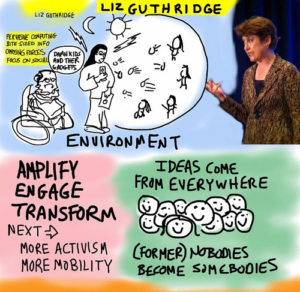 If you're looking for a keynote speaker, trainer or workshop facilitator, I'm (Liz Guthridge) glad to help.
If your subject involves leader onboarding, clarity, engagement, meetings, culture or minor league baseball leadership lessons delivered in a brain-friendly way, I can accommodate you.
The topics listed here work well for 60 or 90 minute blocks, delivered either virtually or in-person. Or, if you prefer, you also can request half-day or all-day sessions. 
Selected "How to" workshops include: 
Do your best thinking in your office, (work and home), not just the shower

Lead an engaging, effective virtual meeting using lean communications®

Become a better communicator using AI, big data and neuroscience
How to communicate like you drive using signals and lean communications

®

 
Create good habits to become a better leader

Improve your conversations by connecting deeper with individuals while applying science

Boost collaboration, insights, and innovation with team members

Channel Tom Sawyer to improve employee performance and increase engagement

Avoid 3 bad "asks" — the fake, the buried and the taser — to get people to act faster

Improve your meetings by focusing on "the experience"
If you're pursuing a topic that's not here, please ask.
Interested in having me speak or present a workshop?  Contact me.
About Liz Guthridge and speaking
My goal for my workshops, webinars, and keynotes is to inspire, educate and entertain you with powerful stories and other content in a brain-friendly way.
To say it another way, do not expect me to be a motivational speaker, flashy dresser or drama queen sharing lessons learned, best practices or recycled material.
Instead, my style is to involve participants as we explore thought-provoking content together. As a result, you increase your chances of getting insights that you can immediately put into action, which is more valuable for you.
I've adopted this style based on my career of working and learning with the masters, starting with the legendary Leroy "Satchel" Paige, who was one of my first co-workers. Satchel was no longer pitching, but he was meeting and greeting fans of all ages at Tulsa Oiler Baseball Park, where I was breaking the gender barrier as the first female vendor. Satchel taught me and many others to stop looking back because something might be gaining on me.
If you'd like to know more about me and my work background, check out my LinkedIn Profile at http://linkedin.com/in/lizguthridge