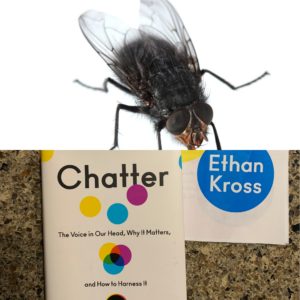 When your days are packed, it can be hard to find and take time to reflect.
Yet, self-reflection is a free and powerful tool to review your actions and feelings. You tap into your inner coach to get insights on what you might want to do differently next time, including ways to improve.
But for many people self-reflection can quickly spiral into rumination, especially when they're considering a situation that didn't go very well.
The downside of rumination is that your inner coach turns into an inner critic who's now repeating the same dark thought or thoughts over and over again. When you get stuck like that, it's hard to stop the voice in your head from its uncomfortable chatter.
There is relief though, and it's something you can learn to do on your own.
One effective way is to practice self-distancing, as I learned in my applied neuroscience program several years ago. My professor introduced my fellow students and me to a relatively new research paper Making Meaning out of Negative Experiences by Self-Distancing by Ethan Kross of the University of Michigan and Ozlem Ayduk of the University of California, Berkeley. Current Directions in Psychological Science featured the article back in May 2011.
With self-distancing, you take a step back – either literally or figuratively – and transport yourself to be a distanced observer, such as a fly on the wall. You then call yourself by your first name and ask yourself, "Why did Liz feel the way she did during that situation?"
The value of this technique is that you examine the situation from a different perspective, the "objective observer." By removing yourself from the immediate stress of the situation, you turn the temperature down from hot to cold. Now that you're somewhat removed – that is, the fly on the wall – you're not as inclined to try to relive the experience with all of its gruesome details and painful emotions and you can see the situation more clearly and objectively.
After learning about this concept, I was hooked. I started successfully using this fly-on-the-wall technique for myself and many of my coaching clients.
For clients who deal with almost non-stop chatter in their head, I've helped them develop habits so they can apply the fly-on-the-wall and other techniques as soon as they think they might need them.
Now you, my clients, and I have an even better resource than this almost 10-year-old research paper. It's Ethan Kross's new book Chatter: The Voice in Our Head, Why It Matters and How to Harness It.
The book is an enjoyable, easy read. And he provides 26 tools! You can implement most of them on your own, and the rest with help from others.  
I'm not the only one who's excited that Ethan's science-based work is much more accessible for so many more people.  Between the book's late January publication date and the end of February, 261 people had written reviews on Amazon averaging a 4.5 out of 5 rating. (I'm one of the reviewers giving the book 5 stars.)
As is the case with most brain-based tools, you should experiment to find the ones that work best for you.
You and the voice in your head will appreciate you taking the time to help yourself.