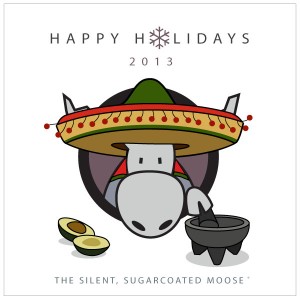 This Gringo Guacamole is tasty and festive-looking any time of year and especially during the holidays. (Serves 6 as an appetizer.)
Ingredients
2 ripe Hass avocados
2 jalapeños diced 6 scallions sliced—white portion only
1/2 bunch fresh cilantro chopped
1/2 tsp. kosher or sea salt
Juice of ½ a lime 2 tsp. ancho chile powder
Preparation
In a molcajete or small bowl, crush together the chile powder, scallions and half of the diced jalapeños.
Add the avocados and the lime juice.
With a fork, combine the ingredients while maintaining the texture of the avocados.
Add the cilantro, salt and the remaining jalapeños and combine the ingredients. Taste and adjust seasoning. Serve with tortilla chips and an adult beverage of your choice. — Created by David Matthews for Connect
Find out more about Connect Consulting Group, read the blog and meet the Silent, Sugarcoated Moose™.