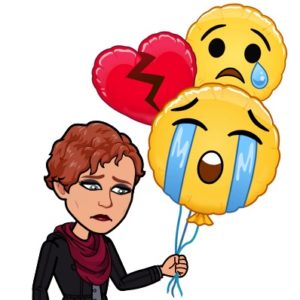 The New York Times headline Happiness Won't Save You grabbed my attention as soon as I spotted it on my phone late last month.
Before I even read the subtitle "Philip Brickman was an expert in the psychology of happiness, but he couldn't make his own pain go away," I knew the article had to be about my boss from college days and I started to cry.
Phil Brickman was a social psychology professor at Northwestern University and the lead author/researcher on the study "Lottery Winners and Accident Victims: Is Happiness Relative?"
During my freshman and sophomore years, I had the amazing experience of being a work-study student in his office as part of my financial aid package.
Since then, Northwestern always has been high on my gratitude list for its comprehensive financial aid package. And, I'm even more appreciative for Phil and his influence on me, which has been priceless. It's why I regularly recall this kind, thoughtful, brilliant man who killed himself 38 years ago at the age of 38 in the prime of his life.
Even though Phil's name is not all that well known, he made an outsized impact on so many people around him as well as the field of psychology. Now thanks to Jennifer Senior's extensive interviews and beautiful writing for her New York Times article, more are learning about him and his ground-breaking work.
For instance, "the hedonic treadmill," "Models of Acceptance and Coping," and "Acceptance and Commitment Theory" all have Phil's imprint on them. His lottery study also has swayed the field of positive psychology. And Phil influenced a number of social psychologists who studied under him as well as conducted research with him. (If you're interested in learning more, check out the 2020 dissertation "A Psychobiography of Philip Brickman: The Life, Work, and Human Concerns of a Social Psychologist" by Benjamin Wegner.)
When I worked for Phil, I was focused on studying journalism and becoming an investigative reporter, not becoming a psychologist. However, the topics he was researching and his take on them were so engaging that I got hooked.
Phil's influence on me extended way beyond my work-study responsibilities. Five of my favorite life lessons I learned from observing him are:
Listen and engage rather than tell and sell, even when you're sharing information. As I explained in Do you practice what you preach about communications?, a blog post from 10 years ago, Phil designed his classes for maximum interactivity, which students loved. I followed his example in my work. And in recent years, I've been delighted to learn that neuroscience supports the concept. The more insights you can help others generate themselves through conversations, the more they're inclined to recall their insight and take action.
Design your work and your life to play to your interests and strengths. Phil disliked public speaking as a professor, which is one of the reasons why he favored group discussions instead of lectures for his classes. (He enlisted graduate students and upperclassmen to serve as facilitators with him.) Phil thrived at Northwestern, which supported this way of working.
Push yourself within reason, which is what I've practiced for myself and the individuals I coach. Having high standards, setting aspirational goals and pushing yourself to achieve them is fine. But be careful that you're not veering so far outside your comfort zone that you enter a danger zone. That's the message I took from Phil's last job at the University of Michigan, which was prestigious but seemed such a poor fit for him. And that was before I knew he suffered from lifelong depression.
Think broadly about the good, the bad and the relationship between the two. As a researcher, Phil was typically "dialectical, synthesizing contradicting premises into more nuanced pictures of reality" as Benjamin Wegner described in his dissertation. In being around Phil, I learned simpler yet still powerful applications: consider polarities and how to manage them and view issues from multiple angles, which also helps with being empathetic.
Don't waste your time and money buying lottery tickets. Your chances of winning are slim. And if you were to win, any happiness you buy isn't going to be worth it. This lesson I gleaned from the research from lottery winners/accident victims. Thanks to later research by Sonja Lyubomirsky, we've learned that our genetics, personality traits and early development predict about 50% of our happiness. Ten percent is affected by life circumstances and situations, and the remaining 40% is subject to our self-control.
Besides being an amazing teacher and mentor, Phil was a great boss. He trusted me with important tasks and gave me considerate and direct feedback to help me improve.
After all of these years, I still miss him. I regret losing touch when he left Northwestern for the University of Michigan. And I think about him often and wonder: What have he and we missed with him not around?