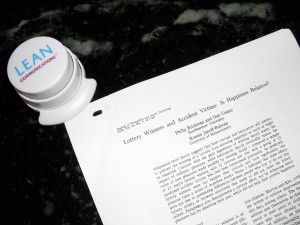 First the preaching: "Conversations are the key to communication!" "We all need to work on building stronger relationships." "Leaders need to be chief learners and listeners."
Several speakers hammered home these points at conferences I've recently attended.
Next the practice: For the most part, the bully pulpit most of them used was the traditional stage or front of the room. Their session format was conventional too. They generally spoke for 58 minutes and left the last two minutes for questions and answers.
Now the comparison. Is it just me or is this contradictory? If you're speaking 97% of your allocated time, you're not conversing. And you're certainly not listening to those in the room.
Also, from a LEAN COMMUNICATIONS and traditional lean perspective, you're not practicing the important principles of coaching and guiding others as they act.
These recent events reminded me of work experiences I had early on in my career—unique situations that influence me still today.
As a college freshman at Northwestern University, I worked as a research assistant for a social psychology professor, Dr. Philip Brickman. Phil—as everyone called him—hated to speak to groups, including classrooms.
So long before anyone was talking about "edutainment," Phil designed his classes to be interactive. Gone was the "expert/idiot" model with the authority figure at the front of the class. Also eliminated was any pressure for him to perform.
Instead, he recruited graduate students and upperclassmen to serve as facilitators to help him lead small group discussions in class.
Not surprisingly, students rated him one of the best professors. And his classes were always full.
His office was also always lively, with students and professors stopping by to participate in yet another research project, chat with one another, or check on the latest events happening in the department.
One of those research projects was the groundbreaking "Lottery Winners and Accident Victims: Is Happiness Relative?" which was one of the first studies about happiness.
My role was minor, primarily reading and coding interview comments, photocopying and stapling and re-stapling as necessary. (Straight corners were a must!) Yet, what a heady experience to be a team member!
Alas, the joy didn't last. Phil got what he thought was a better job offer and moved to another university. However, the new job was more than teaching. He also served as the director of a research institute, which required him to speak in front of groups. A few years later, at the age of 38, he killed himself.
When I heard the news, I was overcome with sadness. To this day, I think of him often, thankful for all the contributions he made yet wistful about what could have been.
He and his work influenced me in so many ways. Early on, I experienced the value of interactivity, which is why I always build some type of involvement in my presentations. And, I respect the importance of being true to yourself. Yes, we should push ourselves to develop, but how far should we travel outside of our comfort zone?
Thanks, Phil. I'll never forget you. And I'll continue to promote the value of precise stapling (even now with staple-less staplers as pictured above), involvement, and happiness.
Are you able to practice what you preach?