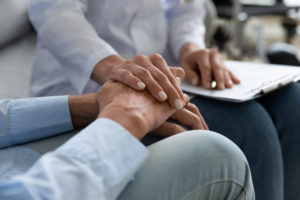 Just two days before Memorial Day, I posted a blog about my discomfort with the growing popularity of two phrases "going back to normal" and "entering a new normal." Even the up-and-coming "better normal" phrase seemed problematic.
These phrases implied that once the Covid-19 pandemic was behind us, we'd return to our usual way of life, which seemed improbable even then.
And then on Memorial Day two horrifying events happened about 1,100 miles apart: the New York City Central Park birding incident between a white woman and black man and the killing of a black man by a white police officer in Minneapolis. These actions, both captured on video, have sparked an awakening about racial inequities and the need for social justice in this country.
Over the past six weeks, the response has been immediate, multi-faceted, and emotional. Many blacks and whites are talking about how "it feels different this time."
For example, protests have drawn diverse crowds all around the United States as well as in other countries. Corporations have issued statements supporting Black Lives Matter and committing to dismantling systemic and structural racism in their organizations and in society. Formal and informal conversations are taking place about racism, inequities, oppression, privilege, and anti-racism. Many white people are realizing they need to hit the books and educate themselves on the real history of slavery and its after-effects in this country since their school textbooks left out so many details.
The combination of these two pandemics—the invisible virus and the visible racism—has rocked our world. The degree of change that we're experiencing feels more like a major earthquake than a slight tremor, especially when combined with the economic recession connected with Covid-19.
So if we talk about the change as a "new normal" or even a "better normal," we're downplaying the magnitude and impact of now working to create a more just and fairer society. 
As I explained in my May 23 blog, Good-bye to the new normal; hello to what?, when we use ordinary words and phrases to describe extraordinary times, we're contributing to a huge mismatch between our language and our reality.  
Instead, we need to use disruptive language to align with our new environment, which neuroscience supports. Words matter, especially if we want to signal we're moving in a new direction. 
What's the new disruptive term that best captures our new era? I didn't know then and I don't know now. The survey included as of the blog asked people to rate potential phrases as well as offer other ideas.
Of the five proposed phrases, survey respondents ranked "The Big Reset" the highest, as shown in the table below. It's also the term Josh Bersin has trademarked as the new way of thinking about work, life, business, and leadership. Yet, the term doesn't highlight equity in the workplace or in society.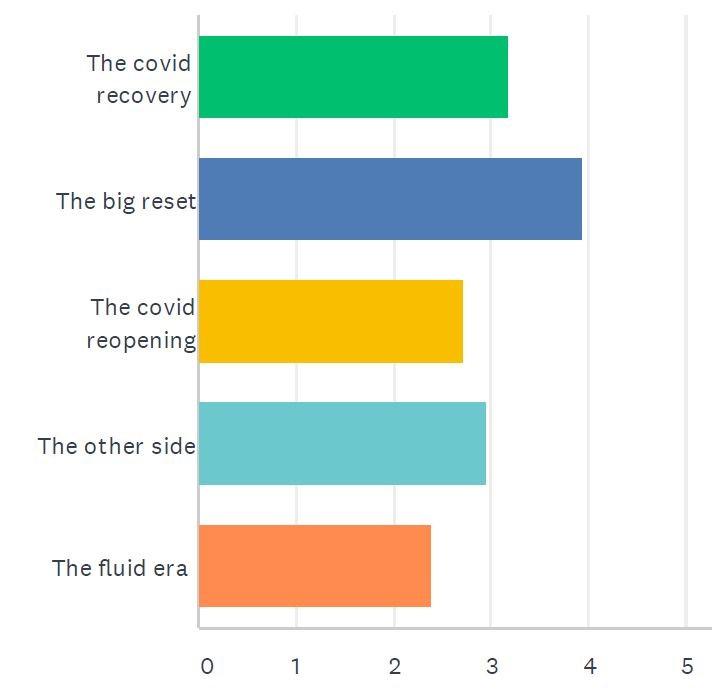 Survey respondents also suggested the following terms:
The Great Awakening
The Era of Systemic Reconstruction
The Great Realignment
The Great Refresh
Reboot
 What's your reaction? And do you have other suggested terms?
While "refresh" and "reboot" traditionally refer to computers, either one seems an appropriate term for our situation. Systemic inequity in our social, legal and economic systems is a malfunction. By doing a refresh or reboot, we can get back to the country's intent of creating a more perfect union.
As one survey respondent noted, "I've been thinking hard about terminology that conveys a thoughtful approach that provides for more equal opportunity. I recoil from "back to business" as usual because what's demonstrated by the last 10+ years is how badly that version of capitalism is for all living things."
And that desire for more equal opportunities, compassion and kindness were themes gleaned from the write-in comments in the survey.
The two pandemics are testing our resolve. And while we're not always clear on the specific actions we need to take, most of our want to lean in and embrace our humanity. That includes connecting with one another in more meaningful and caring ways, which is yet another reason why the word "normal" is too wimpy as well as outmoded for today's times.
As for what happened before the pandemic, there's greater consensus that the term is "The Before Time" or "The Before Times," a science fiction reference.
We humans are in this together – whatever we decide on call our new preferred future that we need to make collectively.    
What do you think?