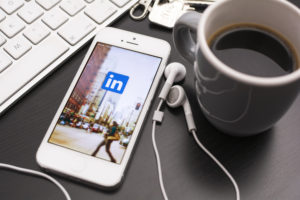 Kudos to LinkedIn, both as a social media platform and as a socially responsible business.
Since LinkedIn launched almost 17 years ago, it's become an indispensable service for networking and job hunting. Now with its news service and learning options, LinkedIn is a respected go-to place for learning and development.
First as a stand-alone company and now as a subsidiary of Microsoft, LinkedIn has demonstrated a knack for evolving to adapt to the environment while also trying to do good.
Consider LinkedIn's closing the "network gap" announced last September. It's an admirable initiative that for me is easier to believe in than act on. From my perspective, the LinkedIn platform highlights some of the systemic challenges with virtual networks.
First some background about the network gap problem. "Who you know" still matters more than "what you know" when it comes to getting hired or getting considered for other opportunities. In other words, those who have built or inherited powerful networks, such as 500+ LinkedIn connections, have an advantage.
The research shows that more than 70% of professionals get hired at companies where they already have a connection. And LinkedIn's own data shows that applicants who are referred to a job by a current employee are nine times more likely to get hired.
Furthermore, according to LinkedIn, three key factors contribute to the quality – and power – of your LinkedIn network:
Where you grow up. You're nearly 3x more likely to have a stronger network if you're in a zip code with a median income of more than $100,000.
Where you go to school. You're nearly 2x more likely to have a stronger network if you attend or graduate from a top-rated school in the United States.
Where you work. You're almost 2x more likely to have a stronger network if you work at one of the top 50 companies, based on LinkedIn's analysis of sought-after employers.
To say it another way, if you've grown up in an affluent neighborhood, gone to a top-ranked school and worked at a top company, you'll have a 12x greater advantage in having doors open for you and getting access to opportunities. That's a huge systemic advantage.
Through its relatively new closing the "network gap" initiative, LinkedIn is focusing on solutions in three areas: technology, programs, and people. The latter involves LinkedIn employees plus the more than 610 million of us who are LinkedIn. Talk about making an effort to be more inclusive!
LinkedIn has a simple, yet elegant idea to work to close the network gap and open more doors for others: asking everyone to take the Plus One Pledge.
Rather than just help individuals who look like us or who have a similar background, we should help those outside our network. This involves sharing our time, talent, or connections or all three.
As someone who received a significant financial aid package from Northwestern University, I've been very grateful for the opportunities my education offered me. Over the years, I've taken many different steps to give back, generally in face-to-face situations, and am always willing to do more.
Yet as a self-employed, small business owner, I need to devote time and energy to keep my business going. Like many, I worry about how social media can quickly become a time suck.
With LinkedIn, my inclination has been to respond to those who seek me out, rather than search for new connections.  
But the reach outs have unintended consequences.
For example, at least once a day, other small business people who tend to look like me ask me to connect. Sometimes the appeals are the generic LinkedIn invitation. Others are requests to get to know a fellow professional. Other times, the ask is a blatant sales pitch.
Regardless of the initial outreach though, if I accept the connection, the individuals turn up the volume to try to solicit business from me. 
And even more surprising and annoying are how uninspiring the pitches are. They range from the "I didn't do my homework" as exhibited by "Thanks for connecting. What's your role at Connect Consulting Group? Let me know if I can be of any assistance."
Or the "I know best even if I've never talked with you" as demonstrated by "I have a unique strategy to raise not only your Prospects Generation on LinkedIn but (and that is where it is all about) your ROI, as this methodology concerns highly qualified Leads."
Thanks, but no thanks. I've been burned a few times already by individuals who are eager to make a quick buck and don't share my value system.
However, I'm more than willing to connect with individuals outside my network to help them open new doors. But how do we find one another through LinkedIn?
Could LinkedIn come up with a new hashtag that we can use to signal our interest for being available and willing to connect? That would help us use LinkedIn's established hashtag #PlusOnePledge for sharing  success stories about opening doors for others.
We all can benefit by building more diverse networks. And there's also value in working to level the networking playing field and providing more access to opportunities.
Any other ideas out there to open new doors more effectively?