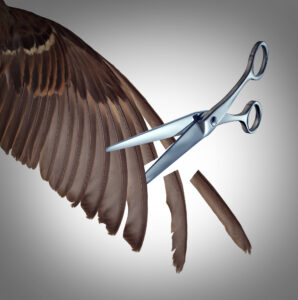 "The world only spins forward."
– Tony Kushner, Angels in America, Part Two Perestroika 1992
Life in the United States now feels like it's lurching backwards.
It's harder to exercise our freedoms. The freedom to speak, to gather safely, to vote in elections, to make choices about our bodies, to love whom we want, and to be spared from hate. These democratic principles have been under attack for a few years now, but now it feels as if some of our rights are in a freefall.
Why am I writing about these social issues in my business blog? Because these issues are adversely affecting our health, our economic livelihood, and most importantly, the wellbeing of "we the people" in our democracy.
Here in the United States, we're experiencing an erosion of rights that we've enjoyed for almost 50 years. Red states are starting to criminalize women and health care professionals. The health risk factors for individuals of reproductive age are dramatically increasing, especially for those who are poor, of color, and often marginalized. Also we're putting employers, especially large ones, in a bind, which also hurts employees.
We need to stay vigilant to save our freedoms and our democracy. Based on all the dots I'm connecting related to my experiences, expertise, and education over the past 50 years, I'm observing the erosion of specific rights, as explained here.
My story starts with the Roe v. Wade opinion that the Supreme Court handed down in January 1973. That spring my public high school English teacher assigned her sophomore students to write a current events essay. I chose Roe v. Wade because of its landmark significance for women's rights.
My teacher Mrs. Sharpton was married to Dr. Sharpton, the school superintendent in Sand Springs, a small conservative town near Tulsa, OK. At the time, the school board members, all Southern Baptists, refused to allow school-sponsored dances, but they didn't infringe on the school curriculum – unlike what's happening around the country today. Note exhibit #1 of an eroding freedom.
While in high school, I also got involved in several clubs that gave me an opportunity to learn parliamentary procedure. These are the rules of order that govern deliberate assemblies. (These rules are similar to what Congress uses but they emphasize the majority ruling with the minority being heard.)
By the time I started college, I had passed all the credentialing exams of the National Association of Parliamentarians. That allowed me to serve as a professional parliamentarian, consulting with nonprofits on a range of governance issues, including elections. I still do this work today.
My true career love was communications. My first job as a college graduate was working for an HR consulting firm doing employee communications for their clients. Back then, these HR firms primarily focused on employee benefits. Employers were still adjusting the groundbreaking federal legislation, ERISA, the Employee Retirement Income Security Act of 1974, passed in September 19 months after the Roe v. Wade decision.
ERISA stated that employers didn't have to offer employee benefits, but if they did, they needed to adhere to minimum standards for most voluntarily established retirement and health plans. Also, employers could self-fund their benefits, which appealed to large employers.
From employers' perspective, self-funding has made it easier to provide the same benefits to all employees wherever they lived and worked in the US. By complying with ERISA, employers got a pass on adhering to state insurance laws for employee benefits. This made benefit administration easier plus benefits more equitable. US employees could have the same benefits regardless of their location, another dot to connect. Note exhibit #2 of an eroding freedom with Roe reversed. Employers will have a difficult time maintaining the same reproductive health care benefits for all employees because states are taking control in this area and many have radically different laws.
My story now jumps to the late 1980s with more dots to connect. While I was living and working in New York City, Planned Parenthood Federation of America (PPFA) contacted me to help with several governance issues for their board of directors and affiliate structure. I strongly support PPFA's mission and I still work with them today.
My decades-long involvement with PPFA has shown me a broad view of reproductive health issues around education, advocacy, and health care delivery. This picture has looked both bright and dark with many shades in between.
On the bright side, PPFA, founded in 1916, provides patients with a full complement of reproductive plus basic health care services. PPFA also helped shape the Affordable Health Care Act (Obama Care) to ensure that individuals can get contraceptive methods and counseling without a copayment or coinsurance. Company plans and other private also expanded their contraceptive coverage – a huge plus for individuals of reproductive age.
Also over the past 40 years and especially the last decade, medical advancements have provided people with more reproductive health options. This includes help with fertilization as well as contraception and medication abortion.
On the dark side, for the past four decades, extremists have attacked reproductive health clinics and abortion providers across the country. Acts of violence included arson, bombings, death threats, shootings, murders, and sniper attacks, as summarized here. Note exhibit #3 of an eroding freedom as well as loss of adults' lives.
Over time, the "Republicans for Choice," an active subset of PPFA advocates, disappeared. And the polarization between the political parties increased. Republicans not only stopped supporting abortion as healthcare but they also started siding with the religious groups trying to curtail abortion services.
Many red-state elected and appointed officials began whittling away at abortion rights and services while also adding hurdles to getting care, which leads to more dots to connect. In rural areas, access to reproductive health care has become extremely limited, adversely affecting peoples' health. And this country already has high rates of maternal mortality, especially for women of color. Note exhibit #4 of an eroding freedom.
With Roe overturned, red-state governors and legislators are quickly moving to restrict abortion access, leading to a patchwork of changing state laws around the country. We're no longer the United States enjoying the same rights regardless of state. (See the earlier exhibit #2 eroded right.)
Worse though, now individuals and health care professionals in red states have lost their voices and their power to make health decisions about pregnancies. Note exhibit #5 and #6 of an eroding freedom for these groups, which are more dots to connect. Pregnancies can be extremely complicated, putting the birth parent and fetus in danger. Health care professionals in red states now face the dilemma of breaking their medical oath or the law, often with unclear legal guidelines. Even more dangerous, they're having to juggle the treatment (and often safety) of their patients with a ticking clock.
While a majority of Americans oppose the Supreme Court's June decision on abortion, that doesn't mean the will of the people to keep abortion legal will prevail. Or that we'll keep our current rights. That's because the constraints in our democracy around voting are becoming more extreme.
As the Brennan Center for Justice explains, reproductive freedom should go hand in hand with fair elections under our democratic system. If you believe in individual autonomy and equality, abortion and voting should be accessible throughout the country.
In elections, citizens should have the right to elect who governs them. Voters also should be able to select policies that they believe protect their rights. However, both are difficult to do. That's because over the past few years, the conservatives on the Supreme Court have been weakening the Voting Rights Act while also allowing partisan gerrymandering that minimizes the voices of people of color and pulling back on campaign finance reforms.
Starting last year, many red-state legislators passed bills to restrict access to voting and to undermine other traditional democratic principles. To me as a parliamentarian, these rulings and laws take more power away from the majority and reallocate it to the minority. Note exhibit #7 of eroding freedom.
Where do we go from here, especially those of us who feel like we're now second-class citizens? Pay attention to what's happening, especially in your geographic area. Also, be sure to vote in all elections, especially the local ones, which affect the administration of local, state, and federal elections. And like my grandmother,  mother and husband, you can work as a non-partisan, neutral poll worker on election day at a local precinct.
If you're an employee, ask your employer to support the rights and freedoms of all citizens, especially #BansOffOurBodies. And also request that your employer avoid funding campaigns and candidates who favor restrictions on reproductive health and voting. This includes lobbyists too.
Also, support the many advocates, organizers, and experts who are working toward reproductive justice and voting rights across states as well as online, especially as attacks on our rights continue.
And if I can be of service in answering your questions or supporting you as we safeguard and work to recover and even better expand our freedoms, contact me. Thank you for your attention.