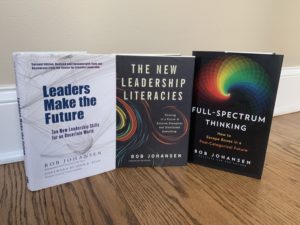 What can Human Resources professionals learn from entrepreneurs, the military and criminals in our VUCA (volatile, uncertain, complex and ambiguous) world?
Overall: How to move beyond outdated bureaucratic, command-and-control organizations and be more adaptable.
Specifically: How to embrace technology, including gaming; and why to appreciate individuals with a rich range of life experiences.
Furthermore, HR professionals and the rest of us need to start seeing our world as it is so we can make better sense of the opportunities in front of us.
In his latest book, Full-Spectrum Thinking: How to Escape Boxes in a Post-Categorical Future, released last month, Dr. Bob Johansen explains that the future is becoming more chaotic and we're not doing enough to prepare for it. (And this was before the Covid-19 pandemic!)
One of our problems is that we're still stuck in putting people and things in categories. Yet these categories are too limiting, inaccurate or obsolete.
By looking down and in with labels, we miss looking up and out to see and understand the bigger picture.
We're also limiting ourselves by getting caught up in still wanting certainty, which is impossible with VUCA. (Bob is also using "scrambled" as a synonym for VUCA.)
Take Human Resource professionals. Bob explains that they're well positioned to expand into the world of "superminds." This is the concept Thomas Malone presented in his 2018 book Superminds: The Surprising Power of People and Computers Thinking Together on how individuals and computers will work together in new ways, playing to the strengths of humans (the effectiveness of doing the right things) and computers (the efficiency of doing things right). The combination of individuals doing what humans do best and computers doing what machines do best will allow us to break new barriers in what's possible.
However, HR must acknowledge that humans and machines need to cooperate, not compete. And then HR must also move away from traditional HR tasks and instead focus on blending human-computing resources, or HCR, as Bob calls it. For example, the computers will be more human-centered, and humans will be digitally amplified. (Think sensors embedded in your skin.)
While this may read like science fiction, Bob is quick to point out that human skills and computer augmentation are already blended in the world of gaming. And many of us wear smart watches or other digital computing devices that measure our physical activity, blood pressure, and heart rate.
He also makes a compelling pitch to replace traditional HR training with more video gaming, especially since video gaming is already transforming from entertainment to learning media. Plus, good video games provide good stories. And with games, you can be in the story, not just read or watch, which creates a more immersive learning experience.
So, even though HR has missed out on many opportunities over the past 30 to 40 years to reinvent themselves as strategic business partners with technology in their portfolio, Bob still thinks HR professionals have an advantage.
Now that the technology has become easier to use, even with the advancement of big data and machine learning, he said he believes it's easier to teach HR professionals about technology than to teach technologists about human resources and people.
HR professionals also are better positioned than technologists to help individuals navigate even more working arrangements than we have now. Those arrangements will need to be integrated into peoples' personal lives, which means HR can help by supporting people to be "whole-life professionals." That will also help HR recruit individuals with a rich range of life experiences who can counterbalance machines.
To create a better future, HR professionals and everyone else need to start thinking differently and more expansively, and look for signals.
As Bob describes them, signals are observable evidence that something new is happening and taking hold. The novelist William Gibson captured this idea years ago when he wrote "The future has already arrived; it's just unevenly distributed."
By thinking more expansively, which includes remembering the past while considering the signals of the future, we'll be better equipped to see the world more clearly as it is. That will help us imagine a "range of alternative futures," as Bob refers to them.
To do this full-spectrum thinking, we have to break some bad habits. These include putting people and things into boxes and categories that are too limiting. Also restricting ourselves to deciding between binary choices, which are too simplistic for our chaotic times.
By the way, the book Full-Spectrum Thinking, which came out in March 2020, is the third in a trilogy. It can stand alone, or you can read it along with the first book, Leaders Make the Future, and the second, The New Leadership Literacies.
None of these books can turn us into futurists; however, they play another important role. The books can open our eyes and other senses to the importance of breaking patterns that don't work anymore and thinking about the future with greater clarity.