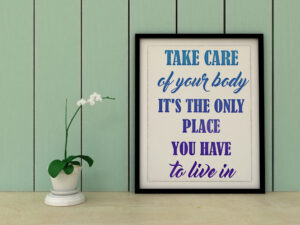 "Adopt good habits for exercising, eating and sleeping."
These eight words summarize how to take care of yourself, especially your mental and physical health.
Granted, it's not always clear what constitutes the best exercise, the healthiest diet, and the ideal amount of sleep you need each night. Many of the experts in these fields have different points of view, some that even conflict.
However, the distillation of all the experts' advice boils down to this essence: these three ingredients — exercise, diet, and sleep — are key to you living your best life.
Why am I writing about this topic when I'm hardly a trained fitness, diet, or sleep expert? Yes, I try to practice doing them well every day, but that doesn't make me an authority. Nor do I want to be known as a member of the Nanny State or a helicopter coach, being overprotective, hovering, and interfering unduly with my clients' personal choices.
Instead, I want to share that ongoing scientific research continues to show how these three actions – exercise, healthy diet and sleep – positively influence our physical and mental health. And the reinforcement I get by emphasizing this message to you here helps strengthen my resolve to continue practicing these actions myself and encouraging my clients, friends, family and everyone else to do the same.
And here's what makes this a time sensitive topic: the realization that if we don't make our physical and mental health a priority, we run the risk of causing harm to ourselves now or in the future. Yes, this is a pessimistic prevention message.
If you respond better to an optimistic promotion message to motivate you, consider this: If you make your physical and mental health a priority, you position yourself to lead a healthier life, both mentally and physically.
Wherever you are on the spectrum between wanting to avoid danger or improving your health situation, the advice is the same: Exercise regularly, eat a healthy diet, and get at least seven or more hours of sleep each night. In other words, when you get pressed for time, make sure you're keeping these three a high priority.
Here's why I'm on this health kick right now. Exercise, diet, and sleep were featured prominently in the awesome  course I just completed, Mental Health Literacy for Coaches: The Time is Now!, offered through one of my professional organizations, the Institute of Coaching, McLean/Harvard Medical School. This trio of healthy behaviors helps you safeguard your health as well as serves as an evidence-based effective treatment for both physical and mental health diagnoses.
To say it another way, this trifecta of exercise, diet, and sleep work together and form the roots of your good health. If you continue to tend to them, you can strengthen your physical and mental health and flourish over time. Conversely, if you ignore them, your health can suffer. And your health care professionals may even prescribe exercise, diet, and sleep as your treatment plan.
If you're wanting to improve how you exercise, eat, and/or sleep yet find it hard to follow through, consider learning the skill of building habits. All three (exercise, diet, and sleep) lend themselves to good habits.  As a graduate of BJ Fogg's Tiny Habits program and a former Tiny Habits coach, I strongly recommend his free online 5-day Tiny Habits program and/or his best-selling book Tiny Habits: The Small Changes That Change Everything.
Also, Coach.me, which started as a habit-tracking organization, offers great individual coaching around habits. Many Coach.me coaches specialize in exercise, diet, and sleep. (I'm a Coach.me habits certified coach who focuses on other habits and topics, such as being more mindful, accountable, and grateful.)
As for background about my mental health course if you're interested, this self-paced online class provides a base​line understanding of five of the most common mental health issues: depression, anxiety, trauma, bipolar disorder, and addiction/substance abuse. Dr. Shelley Carson, a Harvard University researcher and instructor, played a large role in designing the course and also facilitates it. As participants, we coaches have access to class videos, worksheets, exercises, practical scenarios, quizzes, and interviews with health care experts and coaches. We also have had several opportunities to join a live Zoom discussion session with Cr. Carson.
For each module, we covered the neuroscience, the evidence-based treatment, and supporting topics. By learning the basics, we coaches are better equipped to know the boundaries between coaching and therapy. Plus, we coaches can help reduce the stigma around mental health issues, make educated suggestions around referrals to our clients who are experiencing mental health challenges, and help them develop and grow.
My closing words: Please make exercise, diet, and sleep a priority. And since I want to practice what I preach, I'm now getting off my desk chair to move ….