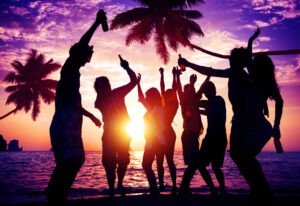 The offer was irresistible. "Create some JOY for yourself AND be part of the largest-ever citizen science project on JOY in just 7 minutes a day for 7 days."
Granted, I was primed to participate in The Big Joy Project, an impact and social action campaign that's connected to the 2021 documentary Mission: Joy. Finding Happiness in Troubled Times. And I highly recommend both the project and the film, especially for those  interested in wanting to add more joy to their daily life.
As background, the Mission: Joy film, which my husband and I recently saw at a local library, features two global icons and Nobel Peace Prize winners, his Holiness the Dalai Lama and the late Archbishop Desmond Tutu.
Back in 2015, Archbishop Tutu traveled to his friend's home in Dharamsala, India, to celebrate His Holiness the Dalai Lama's 80th birthday. Douglas Carlton Abrams, who's coauthored several books, including one with "Arch" (his nickname for Desmond Tutu), joined the two holy men.
Besides providing the two octogenarians with a rare opportunity to get together (just the sixth time they had met in person), Abrams wanted to ask them a burning question about joy. Namely: "How do you find joy in the face of life's inevitable suffering?"
Over their long lives, these two spiritual giants had experienced major hardships, including exile, the violence of oppression, and other deep pain and suffering. Nonetheless, they considered themselves "two of the most joyful people on the planet." The men came from different backgrounds and faiths yet were linked by their desire for justice, self-determination, and being forces of good. They also recognized each other as their "mischievous spiritual brother."
Their conversations over five days became an instant New York Times bestseller in 2016. The Book of Joy: Lasting Happiness in a Changing World shares their stories, wisdom, and daily joyful practices that support their emotional and spiritual lives, including their eight pillars of joy. 
Now fast forward to fall 2022. The 90-minute documentary, which was completed just a few months before Desmond Tutu's death at the age of 90, is now getting wide release. (According to the film's co-director Peggy Callahan, the two friends were never able to get together in person again after 2015, but they were able to watch the documentary independently and then meet on Zoom to talk about it and share some laughs.)
The film covers just a slice of the book's content. The film also features brief summaries of the two men's backstories plus interviews with scientists about the benefits of joy for the mind, body, and soul.
The film is joyful to watch because these two elders are so happy in each other's company even as they discuss serious topics. It's also fun to hear Tutu's daughter Mpho Tutu van Furth, a cleric who accompanied her father on the trip, describe the energy of her father and his friend as "eight-year-old boys." She also acknowledges she wouldn't have wanted to be their third-grade teacher.
As for the Big Joy Project that my husband and I recently completed, this free-for-the-public program has two goals. One is to show participants how they can create more joy for themselves and others in a few minutes, no matter their circumstances – assuming they have online access. (Once you learn these simple, scientifically proven actions, you can go offline and teach others to find more joy too.) The second is to advance the field of scientific discovery about joy and psychological well-being.
The seven days feature four micro-actions: 1) express gratitude; 2) shift your perspective; 3) connect with others; and 4) practice kindness. The filmmakers worked with neuroscientists, psychologists, and researchers from the Emotional Well Being Network, which includes the Harvard Center for Happiness, UC San Francisco, and UC Berkeley's Greater Good Science Center. The latter's Greater Good in Action serves as the portal.
By participating in the seven-day project, we received:
Immediate boosts in our mood each time we followed through on our assigned micro-action.
An individualized report about the amount of joy we created for ourself independently, plus customized recommendations on the best ways for us to practice finding joy on our own.
An additional boost knowing that we're taking part in a global initiative designed to benefit people around the world as well as contribute to the science of joy.
(And I got an extra boost watching my husband engage with the film's message and take part in learning these micro-actions after many years of indifference.)
Joy is definitely an inside job, as the scientists say. And the sooner each of us knows how to create more joy for ourselves and others, we'll all be in a better place.
If you can, watch the movie and participate in the research project too. And spread the word and involve others, including family members, friends, teammates, and co-workers. It's easier to find joy than you might think. And we all can benefit from more joy in our lives, communities, and world!