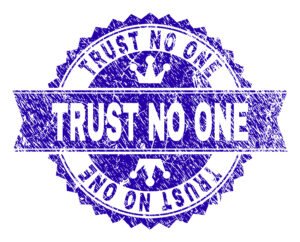 Distrust has become "society's default emotion," according to the 2022 Edelman Trust Barometer.
How bad is it? More than half (nearly 6 in 10 respondents) say they tend to distrust something – or someone – until they see evidence to the contrary. (And their "evidence" could be misinformation.) Another 64% say they believe people "are incapable of having constructive and civil debates about issues they disagree on."
It's not surprising that trust continues to tumble. After all, people around the world have experienced two extremely difficult years in a row due to multiple pandemics (health, economic, social inequities, and climate). And society, especially in the United States, feels very polarized.
Plus in 2021, many democracies experienced a weakening of their systems, which has increased distrust among citizens. (None of the respondents from the developed countries believe their families and themselves will be better off in five years' time.)
For the fourth year in a row, business is once again the world's most trusted of the four institutions that the Barometer measures: government, business, NGOs, and the media. Business, at 61% overall, now leads government by a 53-point margin on competence and a 26-point margin on ethics.
And who's the most trusted within business? "My Employer" at 77%. And the overall media most trusted? Communication from "my employer" at 65%. These two results illustrate the importance of the employer/employee relationship – the most trustworthy relationship that Edelman measures. (By the way, Edelman has been conducting this survey since 2000.)
Respondents also showed closer bonds with their co-workers and their neighbors, and less with outsiders living in other regions, states, and countries.
Employees aren't the only ones who trust their bosses. Respondents overall this year said they want more leadership from business, namely expecting CEOs to speak out on social issues and play a role in societal change. For example, 81% want CEOs to discuss public policy, including explaining their company's actions toward solving society's problems.
The big questions are:
Do CEOs and their teams want to take on this role?
Are they prepared?
And can they do it?
Edelman's point of view is that "business' societal role is here to stay." But business cannot do this job on its own. Companies must work with other institutions to make fixes and restore belief in systems.
But Edelman isn't the boss of business, certainly not of all of the CEOs who may be reluctant to take center stage on societal issues. Or, for that matter, any CEOs still hesitant to step forward and partner with government, NGOs, and media to effect change.
Yet, if CEOs don't take the initiative to serve all their stakeholders – customers, employees, communities, and investors – how can we break this cycle of distrust?
Dave Samson, Edelman's Global Vice Chair, Corporate Affairs who joined the PR firm in 2020 after a distinguished career in several blue-chip companies, makes an eloquent pitch for businesses to become a stabilizing force. In particular, Samson writes that CEOs and their leadership team need to:
Double down on purpose and ESG at the core of their business strategy.
Actively work to address society's most pressing issues, such as climate change, by decarbonizing their operations and supply chains, moving from pledges to action.
Partner across institutions — government, NGOs, and media — to forge common ground, foster innovation and drive impact.
Lead with trustworthy and quality information, modeling responsible communication.
Considering the speed at which trust is deteriorating, we need CEOs and others in business to move from the sidelines to the playing field and help us rebuild trust as well as work to address society's most pressing problems. .
How are you going to help?