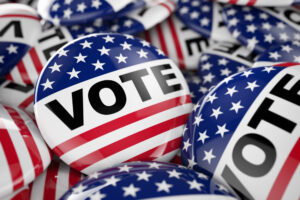 Company leaders ordering employees to stop talking about politics at work is akin these days to generals who are preparing to fight the last war.
How do you win a war of words when the conversation has moved past politics? The new dividing line is between facts and disinformation, which some believe is a risk to democracy.
For example, in the United States we're now battling against a number of lies about the 2020 election, including unproven claims about "election fraud."
In case you missed the news, the tech company Basecamp's co-founders Jason Fried (also CEO) and David Heinemeier Hansson now require employees to "curb political conversations at work."
As reported by the Wall Street Journal, the Basecamp co-founders issued this company policy after deciding that employees' dialogue about "especially choppy" social and political waters had become a "major distraction." Many employees complained about the co-founders' action, so Basecamp offered buyouts to those who don't want to continue working there. Many of the 50-member workforce have decided to leave.
Because Basecamp is a private company, employees don't enjoy the freedom of speech rights protected under the First Amendment of the U.S. Constitution. But considering companies like Basecamp and others have been talking for several years about the value of employees "bringing their whole selves to work," this company-issue "gag order" runs counter to popular trends. Worse, it silences voices about democratic values, even when the dialogue is chaotic.
Meanwhile, consider the unrest among Congressional Republicans. After U.S. Rep. Liz Cheney (R-Wyo.) tweeted on May 3 that former president Donald Trump was "poisoning our democratic system" with his false claims that the 2020 election was "stolen," she received immediate backlash.
As reported by The Washington Post, House Republican leaders as well as several rank-and-file members have called Cheney's statements about Trump "a distraction." House Republican leaders also have begun steps to vote to remove Cheney from her role as House Republican Conference chair, the third-highest position in the House Republican leadership.
Cheney is now an outcast in the Republican party for speaking truth to power. However, she's one of many who agree with her that our democratic system is in a fragile state. Just look at the erosion of voting rights.
The Brennan Center for Justice, an independent, nonpartisan law and policy organization, is tracking more than 360 restrictive voting bills in 46 states. Most notably, the state legislatures of Georgia, Florida, Texas and Arizona are taking actions under the guise of "increasing election security."
These voting bills strike at the heart – and future – of our democracy. Voting is a fundamental right in a democracy.
Hundreds of CEOs and leaders from companies as diverse as Merck, Levi Strauss & Co., AMC Theatres, Target, United Airlines, Amazon, REI, Apple, American Airlines, GM, HP, Microsoft, Unilever, Salesforce, Patagonia and Sodexo are speaking out in favor of voting rights. They've also signed statements opposing "any discriminatory legislation" that would make it harder for people to vote, according to the New York Times.
Voting is one of our values in democracy and in business. For example, take REI, the American retail and outdoor recreation services corporation that's organized as a consumers' co-operative. Members elect the REI board members who guide the co-op toward fulfilling its purpose. As a co-op, REI believes in the "power of people coming together to create meaningful change. And voting is one of the most powerful ways we can make our voices heard."
And there's potentially more trouble on the horizon. The continuing disinformation about the 2020 election raises suspicions among some about other basic democratic practices. For instance, consider these three basic democratic practices. One, the majority rules. Two, the minority has rights. Three, everyone deserves respect, courtesy and justice.
During the 2020 elections, the country successfully upheld these principles, which made me proud as a professional parliamentarian. By the way, we're the group of professionals who uphold democratic principles in government bodies as well as in other "deliberative" societies and assemblies.
As background, I was introduced to parliamentary law as a high school student, studied it extensively, became credentialed, and continue to work with organizations today as a parliamentarian. From experience, I know about the multiples levels of safeguards built into elections.
But now, with some Republican politicians intent to solve election problems that don't exist to make it more difficult to vote, we voters may experience our rights eroding.
To protect your rights and your voice, please take some or all of these actions:
Contact your elected officials and voice your opinions about your rights to vote.
When you hear elected officials, neighbors, co-workers and others express viewpoints that seem more like falsehoods than facts, ask them some or all of these questions:
How do you know that is true?
Where are you getting your information?
Can you explain your thinking on this topic?
What are you fearful of?
What's the point of making voting harder to do when we're usually trying to make other things easier to do?

Vote as if your life depends on it because it does – assuming you want to preserve democracy.
On the other hand, if you want to weaken and even destroy democracy, stop voting, stay silent, and spread disinformation and lies. We can all discover that democracy is more fragile than we assumed.