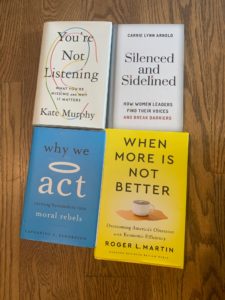 Want to think and act more intentionally, especially by listening and using your voice? These books can guide you.
As is my custom now, every December I deliberately share a short list of my favorite business books for the year. My goal is to curate essential, not exhaustive, choices to avoid overwhelm. And if you don't like my taste in books, you can seek out many other "best books of the year" lists.
As in past years, my 2020 choices are based on science with actionable ideas. Three of them share a theme – listening deeply and speaking up. The fourth is about the state of American democratic capitalism, and how we need to stop viewing our economy as a machine and instead consider it to be more like an ecoculture.
The three books with similar themes are:
1.You're Not Listening: What You're Missing and Why It Matters by Kate Murphy. Listening is the neglected stepchild of communications. Skills training to improve communications almost always focuses on speaking and presenting. And very little research is done on listening. Yet, effective communication is a two-way street: individuals need to take turns talking and listening.
Listening deeply is hard work, especially now that we have so many technological and other distractions. As a journalist, Murphy needs to listen carefully to do her job well. Her book is a great mix of the science and practice of listening. Plus she's a delightful writer and storyteller.
2.Silenced and Sidelined: How Women Leaders Find Their Voices and Break Barriers by Carrie Lynn Arnold. The author is an executive leadership coach who experienced firsthand being silenced as a female leader. She became curious about the phenomena, studied it, interviewed dozens of other female leaders, and then wrote this notable book.
The factors that silence women are complex, ranging from relationships between men and women and among women, the dynamics of work systems, personal experiences, personal feelings, biases we hold, and so on. The value of this book is recognizing and naming silencing plus describing what it feels to have your voice suppressed, keeping you and others from reaching your full potential. As one reviewer noted, "Given the complexity of our world and the challenges society faces, we can no longer afford leaders with silenced voices."
3.Why We Act: Turning Bystanders into Moral Rebels by Catherine A. Sanderson. This book also is about silence – the silence of good people who don't speak up when they observe bad behavior. The reasons can be complex, such as the ambiguity of the situation, our desire to fit in, our fear of the possible consequences of our actions, or not knowing what to do to in the moment.
The author, a psychology professor at Amherst College, is an engaging writer and storyteller. She cast a wide net for research studies, which add to the book's quality. And last but hardly least, she offers up a number of practical tips for being more courageous. For examples of her advice, check out this article Six Tips for Speaking Up Against Bad Behavior. (Her work has been useful to me since it validates the series of habits I've created to help individuals provide their own psychological safety to speak up with confidence. More on this next year.)
The fourth book is:
4.When More Is Not Better: Overcoming America's Obsession with Economic Efficiency by Roger L. Martin. The author is a Canadian who attended Harvard and then taught at the University of Toronto's business school, where he also served as Dean. Martin's familiarity with the United States combined with his role as an outsider, teacher and expert on economic systems places him in an ideal position to explain why it feels like our economy is about to crash.
According to Martin, we've got to stop treating the economy as a machine. Instead, we need to view the economy as a complex adaptive system, more like Mother Nature. Rather than strive to become more efficient, we need to become more resilient and sustainable. The second half of the book includes separate agendas for business executives, political leaders, educators, and citizens. Regardless of our roles, he's encouraging us to think more holistically and take small yet meaningful steps to make changes that we can see and will make a difference.
All four books are informative, thought-provoking and inspiring. The authors are grounded in the reality of 2020 (although nothing specific about all the pandemics), yet hopeful for the future.
Speaking of the pandemics, this year I also read a number of books on social and racial justice. If you haven't read the bestsellers How To Be an Antiracist (2019) by Ibram X. Kendi, White Fragility (2018) by Robin DiAngelo, and So You Want to Talk About Race (2019) by Ijeoma Oluo, I highly recommend them too. For white people especially, the authors challenge and broaden your thinking.
Now, I want to listen to you. What are you reading, watching or listening to these days that you recommend?