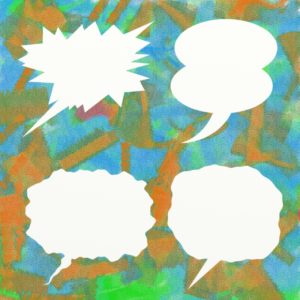 Do you use the pronoun test?
It's a simple diagnostic tool for assessing organizational health, created by Robert Reich, the US Labor Secretary in the Clinton Administration and now a professor at the University of California, Berkeley.
Here's how to use the test:
Listen carefully to the pronouns people use when talking about work.
If you hear first-person pronouns, such as "we," "our" and "us," congratulations! Your organization passes the test; you have more of an ownership culture.
When individuals use first-person pronouns, people view themselves as active participants rather than spectators on the sidelines.
The implications are that when you're implementing strategic initiatives or making other major changes, you'll be better prepared and positioned to introduce changes in your organization. You've got a head start for getting people involved and taking appropriate action.
(By the way, if you hear lots of "I"'s—the other first-person pronoun—you may be entering a narcissist community. We're not going to go there now….)
However, if you hear more third-person pronouns, such as "they" and "them," you've got a different situation on your hands. You not only have people sitting on the sidelines, but they may view themselves as renters, not owners.
Reich goes farther and says that "they" suggests "at least some amount of disengagement and perhaps even alienation."
From the perspective of implementing strategic initiatives or making other major changes, you may have to move a mountain to reach the renters' apartment building. Then you'll probably need to persuade them to get off the couch and get involved.
Keep in mind that employees may not be conscious of the pronouns they use. And they may not know they're being tested—even those who like to ace all of their quizzes.
For example, several years ago, at a conference on entrepreneurship and innovation, one of the panelists was a serial entrepreneur who had sold his start-up to Twitter and stayed on as an employee.
Throughout the panel discussion, the recipient of the Twitter paycheck always referred to his employer as "they." No surprise; the individual has since left and started another venture.
By contrast, leaders often seem to be more aware of the importance of pronouns and how their employees use them.
In a video interview with Fortune Magazine , Target CEO Brian Cornell explained that he knows he has a problem when he hears employees talk about "Brian's plans" or "Brian's ideas."
When the pronouns change to "our plan" or "our initiative," Cornell said "magic has happened." People have started to embrace the ideas, initiatives, plans and actions as their own and "we're on the right track."
A president of a consumer product company I once worked with also was clued into the use of pronouns. When closing a conference call about the company's transformational change with 200 plus leaders, he stated, "This is your company. If you say 'us' and 'them,' you delay the transformation."
Are you ready to pay more attention to the pronouns you, your leaders and your co-workers use?  
And even more importantly, are you prepared to articulate what you hear and then take actions? 
If you hear mostly first-person pronouns, do more than congratulate yourself. Point out the phenomena to your co-workers and leaders. Take pride in how your culture is more "we" than "me."
Even better, talk about how you can best nurture this ownership culture and help it flourish. You don't want to take it—and employees—for granted. It's better to assume that the culture is fragile rather than tough.
Now let's look at the opposite. What if you hear mostly third-person pronouns? Getting people to move from "them" to "us" is harder than switching from "me" to "we."
Start by calling attention to the third-person pronouns with your co-workers and leaders. Discuss ways you can role model first-person pronoun use. Also, look for opportunities to bring the pronoun use out into the open and talk about what it may take for people to think more like owners than renters.
Also look both in the mirror and around you in terms of organizational processes, procedures and other rules. There may be real and perceived barriers that are keeping people from using "we" and "us."
What if you hear a mix of pronouns? Let's say your workforce is a bit schizophrenic, alternating among "we," "they" and "you." In this case, praise people—publicly and privately—who use first-person pronouns.
Also, ask them about their experiences in the organization to learn what you can reinforce with others to increase the sense of ownership. And don't forget to examine those real and perceived barriers.
With attention and action, you can improve how you perform on the pronoun test.