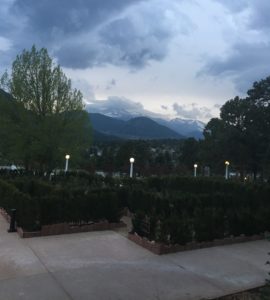 Want to be a more conscious leader as well as help other leaders increase their self-awareness and reach bigger goals?
Late in May, 85 master executive corporate coaches plus several leadership and development professionals gathered in Estes Park, Colorado for the 2018 MEECO Leadership Institute conference.
The brainpower of my fellow conference participants combined with the rarified air (7,500 above sea level) and breath-taking mountains contributed to an amazing three days.
Once I returned to sea level and reflected on the experience, these three big lessons surfaced for becoming a more conscious and effective executive coach:  
1.Engage the ecosystem, not just individuals. As we coach individual executives, we are simultaneously working as enterprise-wide business partners. The enterprise is an ecosystem in which everything is interrelated and interconnected, which affects our work. For example:
Take into account the environmental influences and impacts on the executives we coach. Executives face challenges sustaining the progress they make. In other words, executives usually have the will and skill to change their behavior, but they'll have a hard time conquering the hill, especially if the company culture is at odds with their change plans. (Consider traditional performance management plans, learning and development programs, and other outdated processes….)
To help make behavior change stick, make sure coaches and coachees have tools and the discipline to use them. These tools include assessments, action plans, metrics, and diagnostics to track goals and progress. The other advantage of using more tools and data is the ability to demonstrate the return on investment of the time and money spent on coaching.
Also, get leaders into different ecosystems. The exposure to different settings can help them see and learn from other real world problems. As a MEECO Institute Board Director and Deloitte's Human Capital Managing Dr. David Dye explained, learning and development programs traditionally train the fish (the individual leaders) but neglect the "pond"—the company culture and context—where the fish swim. David and his co-presenter Kris Routch talked about how giving leaders "exposure experiences" instead of sending them to traditional offsites and training sessions. This can help create "bigger fish" in a "better pond" as leaders apply their new learnings to their own organizations.
2. Design for scale. Traditionally, executive coaches have worked one-on-one with individual leaders. This model is unsustainable for growth. Leaders and their organizations need to be able to scale coaching as well as leadership and development efforts to include more individuals.  
Scaling can take different forms, including team coaching, peer coaching and technology solutions. Ideally, leaders will adopt all of these approaches in a strategic, integrated manner to leverage the best qualities of all. The result will be a stronger coaching and learning culture for their organizations.
For example, Jeff Smith, Chief Operating Officer for Mobify, and his coach Jennifer Gerves-Keen, explained how they collaborated to build a coaching culture within Mobify. Jenn coaches Jeff. Jeff coaches his leaders and other employees while also training individuals at all levels to learn how to coach each other.
Dr. Matt Barney, Founder and CEO of LeaderAmp, a science and technology firm that makes coaching more effective, tailored and scalable, talked about how to use new technology to supplement the expertise of coaches between sessions. In these situations, new types of artificial intelligence combined with mobile apps and assessments can amplify, not replace, the individual coaching experience.
Coaches need to scale as well. Dr. Mirella De Civita, President, Papillon MDC Inc. and Grand Heron International, talked about diversifying your coaching business by moving beyond the constraints of time, which was fascinating and provocative. Mirella also creates communities of learners to role model sustainable leadership, and in doing so serves as a great role model herself.
3. Embrace our humanness. Leadership is hard work, especially in a VUCA (volatile, uncertain, complex and ambiguous) world. No one leader has enough brain power – even with artificial intelligence — to sift through all the data and moving parts to understand complex situations, make decisions and predict what will happen.
To lead well, executives need to count on thought partners and teams of individuals. Rather than view this as a weakness, we need to have more compassion for leaders. Examples of personalized support for leaders and their ecosystems include:
Bob Anderson, the Founder, Chairman and Chief Development Officer of The Leadership Circle, said he and his team are observing a big gap between the demands on leaders – especially related to complexity – and the current level of leaders' consciousness.
Based on their database, 80% of leaders are working in a reactive mode, relying on their technical knowledge and smarts, rather than pushing themselves to gain more consciousness. This state is exhausting for individuals. Furthermore, it limits them and their organizations as the leadership efforts can't be scaled or leveraged.
Creative more conscious leaders who work on their inner game, a la mindset, by contrast, focus more on their already strong people skills. This includes listening, empowering others, and building teams. These leaders also emphasize their purpose, passion and authenticity. As a result, they're better able to work with their teams to create the outcomes that matter most.
Tricia Naddoff, President at Management Research Group, shared her research that supports leaders in a VUCA world, which also reinforces the findings of the Leadership Circle. (I'll cover her research and its implications in a future blog.)
Mercedes Martin, Founder and CEO of Mercedes Martin & Company, and I deepened the conversation about our humanness in our workshop, which followed the presentations by Mirella, Bob and Tricia.
Mercedes and I shared the qualitative research we conducted with conscious leaders last year about their progress with the triple bottom line (economic, environmental, and social) and their ability to sustain their results.
Through our interviews, we discovered that the social sustainability gets short changed even when leaders believe in and practice inclusion. That's why we're advocating embracing humanity more consciously in the workplace. To help leaders, we're creating learning labs, which we've named Humanity Labs.
In these "work to learn" Humanity Labs, leaders have the time and space to reflect and design brave spaces for talking and learning while working on important business issues. And in doing so, leaders can build (more likely co-create) better ways for sharing responsibilities to improve the ways we work together.
Stay tuned for more on the Humanity Labs.
Meanwhile, if you want to learn more about MEECO, including future conferences and its membership arm, ACEC (Association of Corporate Executive Coaches), check out MEECO and its Founder and Executive Director, CB Bowman.