2015 Holiday Recipe — Palmetto Pulled Pork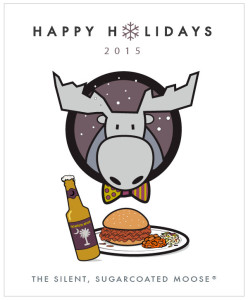 Pulled pork—either as main entree or in a sandwich—is popular in the South, especially in the Carolinas.
Ever since my dear husband David Matthews presented me with a slow cooker for my first birthday in Charleston last year, he's been experimenting with the most savory way to prepare pulled pork.
This recipe he's created is our favorite. It's also true to the barbecue traditions of the South Carolina Lowcountry.
If you're not familiar with pulled pork, it's named for its tender texture at the end of the cooking process. Unless you're roasting an entire pig, you take what otherwise would be a tough cut of meat—such as the butt featured in this recipe—and cook it "low and slow." The meat becomes so tender that you can "pull" it easily or break it into small pieces.
Pulled pork makes for a delicious meal any time of year, and for any occasion.
Y'all enjoy!
(Serves 8-10 as a main course.)
 Ingredients
½ cup sweet paprika
¼ cup smoked paprika
¼ cup Kosher salt
¼ cup sugar, preferably turbinado
2 tablespoons chili powder
2 tablespoons garlic powder
2 tablespoons onion powder
2 teaspoons cayenne pepper
1 teaspoon of a South Carolina rub, such as Willie's Hog Dust
1 6-8 pound pork shoulder butt
1 large yellow onion
1 cup low-salt chicken broth
South Carolina mustard BBQ sauce
Preparation
To make the rub, mix the spices in a jar and store in a cool, dark pantry. You can do this right before cooking or several days in advance.
The night before cooking, rub the pork butt with the spice mixture. Wrap it in foil and refrigerate overnight.
The next morning, heat 2 tablespoons of oil in a cast iron skillet until nearly smoking. Brown the pork on all sides, about 10 minutes.
Cut the onion into four slices and place on the bottom of a slow cooker. Put pork on top of the onion slices and pour 1 cup of low-salt chicken broth around the pork.
Cook on low for about 8 hours until the pork is very tender.
When done, chop or pull the pork into pieces. Remove any large pieces of fat. Mix with the BBQ sauce to taste and put back in the slow cooker to keep warm.
Serve on soft buns with coleslaw and your favorite sides. An ice-cold local beer is the perfect adult beverage to enhance the flavors. Sweet tea is also a regional favorite.
— Created by David Matthews for Connect
Find out more about Connect Consulting Group, read the blog  and meet the Silent, Sugarcoated Moose™.
Click here for our Connect Consulting Group Holiday Recipe Archive