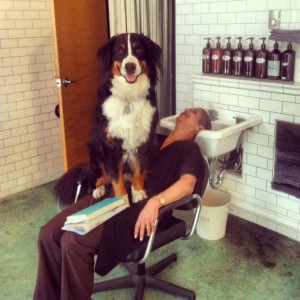 Looking for a list of the best change leadership books published in 2013?
You won't find it here.
This year, I'm breaking from my popular tradition.
Instead, I'm offering my "go to" list of favorite books about the brain. This topic is top-of-mind now that I'm serving as a teaching assistant and student for the Executive Masters in Neuroleadership Program through the Neuroleadership Institute.
These seven books are ideal for us lay people who want to understand neuroscience well enough to apply it.
With these books, you'll gain ideas on how to improve your professional and personal leadership in a brain-healthy way.
(Caveat: I still haven't learned how to better my position with my alpha dog, Gustav, pictured above. He ignored the fact that I had my copy of Your Brain at Work on my lap at the hair salon when he decided he wanted some lap time.)
These books are listed according to their publication date, starting with most recent.
By the way, there are intentionally seven books here. To avoid overwhelming others, I've learned that it's best to provide no more than seven items.
Do you have a favorite book that that feeds your brain that didn't make this list? If so, please add it in comments.
Also, what's on your reading list for 2014? Please share!