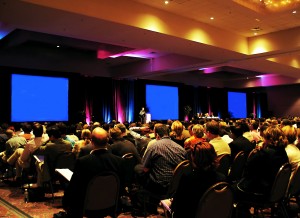 Meeting for a walk was one of Steve Jobs' favorite ways to conduct business, according to his biographer Walter Isaacson in his bestseller Steve Jobs.
This two-for-one activity didn't make it to the 14 pointers of "The Real Leadership Lessons of Steve Jobs" in the April issue of the Harvard Business Review.  But Isaacson wrote extensively in the biography about how Steve Jobs invited many people to walk with him when he wanted to discuss something important.
We should all be more like Steve in this regard. This is especially true considering how Bob Johansen, a distinguished fellow and former president of Institute for the Future, believes we're entering the age of the corporate athlete. (See "Leading in a VUCA World.")
Yet so many meetings—especially marathon meetings—are anything but healthy for the mind or body.
Having participated in several day-long workshops and multiple-day conferences lately, I continually feel like a weekend athlete. On Monday morning—that is after the conference— I'm tired, groggy and out of sorts, especially if I also ate poorly with too little exercise.
Rather than build up endurance for more meetings like this, I'd rather participate in meetings that are brain-friendly and physically healthy.
What do these meetings look like? Conferences or workshops that are one or more days long should feature:
Content presented in short chunks. Each chunk may be totally different, such as a discussion, a video or interactive exercise.
 Dialogues, not monologues.
 Longer breaks, preferably with time to go outside for fresh air to help with the digestion of the information.
Dr. David Rock of the NeuroLeadership Group uses these techniques for his conferences as well as his training. They work beautifully. I'm convinced I have better recall of his training from 10 months ago than I do from the workshops and conferences I attended in late March and early April.
Knowing these practices doesn't make the application perfect though. Take our workshop "Success Secrets of Trusted Change Advisors" that five of us put on at the ACMP (Association of Change Management Professionals) conference.
For our 90-minute workshop, we featured a panel discussion with questions from the audience followed by Open Space Technology, which supports the NeuroLeadership Group's advice. (Deb Nystrom, who skillfully set up and facilitated the Open Space segment, has shared the session's output here.)
We had more than 150 people participate, convening to discuss at least nine topics formally and who knows how many informally.
The informal feedback we've received to date—as well as the smiling faces we observed during the session—validated that the NeuroLeadership Group's suggestions work. Participants—the majority who of whom had never experienced Open Space before—found our short session fun, illuminating and a refreshing change. One person commented that she hadn't fully realized how she thought about an issue until she talked about it out loud with others in her group.
Yet, even though we hope and expect the formal feedback data to match the anecdotes, we know we can make improvements. This will make meetings like this even more inclusive, memorable and valuable.
For instance, our lessons learned include encouraging participants to:
Write their thoughts on flip charts so those are acting as butterflies (flitting from topic to topic) and bumblebees (cross-pollinating ideas from group to group) can see at a quick glance what's going on in their new group.
Form ameba structures rather than tight circles to make it inviting for the butterflies, bumblebees and anyone else to enter the group and join in the discussion.
We certainly expect we'll be able to put these continual improvements into practice.
Even if Baby Boomers and Gen X don't push for meetings like this, the Millenniums and the generations behind them will. Those who are learning through the Khan Academy, which is turning education upside down, won't want to tolerate meetings that rely on the expert/idiot lecture model.
Instead, they'll want to meet to take full advantage of the in-person experience. This means sharing information and experience in real life that's not as easy to do on your own.
When you're alone, you read, watch lectures on videos and take tests, and even hold online chats. But you can't stand, sit next to or walk beside someone and engage them in a meaningful conversation unless you're together in real life.
And as social animals, togetherness like this is good for our brains, bodies and souls—especially when we're involved with change initiatives.
Shall we meet on this? Regardless, let me know what you think.