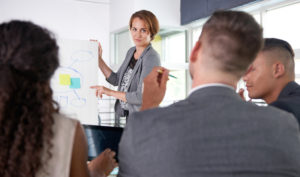 "I need more confidence." "If I could be more confident, I'd be more successful." "We women shouldn't complain about our lack of confidence; instead, we should just follow that advice to 'fake it 'till we make it'."
These are common themes I've heard from women at several recent workshops, panel discussions, and other venues in the Charleston, SC area.
Confidence by itself wasn't on the agenda at any of these events, but it quickly surfaced, picking up steam and generating energy in the room.
Women aren't the only ones who express concern about their lack of confidence. Researchers, authors, coaches, leaders and other business people have observed that women tend to struggle with more self-doubts than men do.
As an executive coach who often works with high-performing women and serves as a mentor for young women early in their careers, I note that many women wrestle with both internal and external confidence issues.
For instance, some women frequently question their ability to perform and succeed. Occasionally, this evolves into the imposter syndrome, in which an individual feels like a fraud even with an impressive resume, an accomplished career, and great potential for future growth.
As for the external side, some women find their confidence eroding when they view that their self-worth and reputation are outside their control. They believe they're dependent on others passing judgment on them.
In my experience the latter is a harder pattern to break than the internal self-doubt, especially when women work in organizations that aren't committed to ensuring gender and racial equity.
I also find that women in the Deep South must deal with structural and cultural barriers endemic to the region. For instance, here in Charleston I frequently encounter white Boomer men who are still riding on the coattails of their family's last name or a prestigious former employer from a different geography.
These men become emboldened with their privilege and believe they're entitled to establish the rules of engagement for others, especially women, who are considered second-class citizens. These men are often able to make women doubt their abilities and contributions, especially for females who are trained to be polite and not question authority.
So how can women, especially those in the Deep South, feel more confident?
Based on the research, my applied neuroscience background and my observations as well as personal results for myself and my coachees, I suggest these five ways to boost your confidence:  
Go for competency over confidence. The more competent you are the more confident you'll be as you'll be drawing on your own expertise. You'll have the technical background and proficiency to support you, especially if you continue to upgrade your knowledge. No one can take this away from you.
Strive to nurture a growth mindset. As defined by the eminent Carol Dweck, you have a growth mindset if you believe you can develop your talents through hard work, feedback from others, and continuous learning. You're not concerned about protecting the talent you were born with, so you don't worry as much about looking smart and feeling the need to be extremely confident. Instead, you recognize the need to put energy into learning and preparing to do well. These acts give you a sense of accomplishment, which help you feel confident.
Develop points of view about key issues and express them clearly, succinctly and firmly. Ideally, your point of view is well thought out and different from others' perspectives, which will help distinguish you. Plus, if you're able to articulate your points of view, as well as ideas, directly and concisely, you'll come across as more credible and memorable.
Be action oriented. Act, not just think, express your ideas and ruminate over things. The act of getting things done will give you a sense of accomplishment, which will help you improve your confidence.

Know what works best for you and be firm about it. In my experience, when you're true to yourself you'll be more confident and successful. For example, if you don't like tooting your own horn, ask others for help, such as introducing you. One of my clients told his staff that he channels me when facing a challenge. By asking himself "What would Liz do?", he said he gets the courage, curiosity and commitment to move forward. I was thrilled with this introduction, which fits me well, but I didn't have the nerve to use it myself.
Try practicing and adapting these tips to fit you and your style. By doing so, you'll make them your own, which also will help your confidence.
For more ideas, check out these two books: The Confidence Code: The Science and Art of Self-Assurance—What Women Should Know by Katty Kay and Claire Shipman, journalists and authors of Womeneconomics and Confidence: How Much You Really Need and How to Get It by the psychologist Tomas Chamorro-Premuzic.
Whatever you do, avoid "faking it 'til you make it." You don't want to be another Elizabeth Holmes, the founder and CEO of Theranos, the once high-riding and now defunct Silicon Valley blood-testing company. Holmes is the subject of the riveting new HBO documentary The Inventor: Out for Blood in Silicon Valley and engrossing book, Bad Blood: Secrets and Lies in a Silicon Valley Startup by Wall Street Journal reporter John Carreyrou – not exactly the fame she was seeking.
Too much confidence and you can be perceived as a jerk. A little bit more confidence can increase your self-assurance.