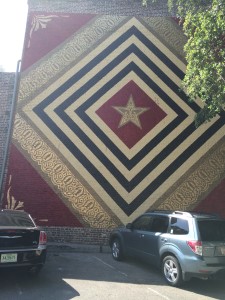 The place was so packed that fire marshals were strategically stationed around the rooms.
Almost everyone with a phone or camera was snapping photographs.
A long line of people snaked through the room waiting to get an autograph.
Was the venue a rock concert or a Hollywood awards ceremony?
No, it was the opening of the new exhibit "The Insistent Image: Recurrent Motifs in the Art of Shepard Fairey and Jasper Johns" at the Halsey Institute of Contemporary Art in Charleston, SC on Thursday, May 22.
In honor of its 30th anniversary, the Halsey is celebrating by recognizing two artists with South Carolina roots: Fairey, born in Charleston in 1970, and Johns, born 40 years earlier in Augusta, Ga. who studied at the University of South Carolina.
Both artists are known for appropriating iconic images, recasting them in fresh, surprising new ways, and giving the transformed images new meaning.
For example, Fairey's best known work is his Obama HOPE poster, which was an omnipresent element of the 2008 presidential campaign.
The current exhibit, which continues through July 12, is the first to showcase Fairey's work in his hometown. Fairey was at the opening, mingling with the crowd and willingly autographing programs.
To the delight of his family, friends and fans, Fairey has created not only new paintings and sculptures but also several large-scale public murals around downtown Charleston for the show.
All the artwork supports the theme "Power & Glory." It's both a celebration and a critique of America with our obsession for power and our hypocritical actions around fairness.
What's the connection to how we successfully navigate within organizations to achieve our goals in a brain-friendly way, which is the focus of this blog?
The street artist, graphic designer and activist Fairey can teach us three helpful lessons for adapting to the VUCA (volatile, uncertain, complex and ambiguous) world in which we live and work.
Build on the familiar to move toward the new. By recycling images we easily recognize, Fairey initially encourages us to welcome conventional images that seem to be updated. Then as we look closer and see how he's juxtaposed the familiar with new elements and in-your-face slogans in complex collages, we're challenged to look below the surface and consider new meanings. We realize the status quo is no longer appropriate.
Narrow your focus to drive home your message. Fairey works in a set limited color palette with recurring geometries. Yet, his combinations, especially with the addition of short, powerful nouns and verbs, are eye-catching, memorable and potent.  His visual messages definitely cut through the clutter to catch your attention and make you look and think.
Be accessible to engage and inspire action. Fairey describes himself as now "too street for corporate" and "too corporate for the streets." Yet, at the opening, he and his work appealed to a diverse crowd—from starving young artists to art collectors who could be characters in a Tom Wolfe novel to everyone else in between. Fairey and the Halsey Institute allowed the taking of photographs—even flash—which is a rarity in similar settings. These actions made Fairey, his art and the venue seem approachable on so many levels.
As Fairey's art and his experiences show, it's more difficult–even impossible–to control our destiny today.
Yet, with quality ideas, hard work and some luck, it is possible to engage others and jump start a movement to effect change.
How can you apply these lessons to involve and inspire others and encourage appropriate action?