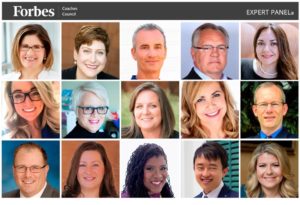 In this expert panel from the Forbes Coaches Council, 15 of us shared tips for facilitating ways to encourage team members to voice their opinions, including being more creative. My contribution is #2: Allow For Private 'Eureka!' Moments.
My tip honors the brain science. To make brainstorming a win/win, provide a more supportive experience for employees to feel psychologically safe and generate more and better ideas. Research has shown that giving people permission to brainstorm on their own in a way that best supports their brain and then coming together with the group to discuss everyone's ideas is an effective way to generate good ideas.
Read the full post, 15 smart ways to facilitate better brainstorming from your team, from Forbes.