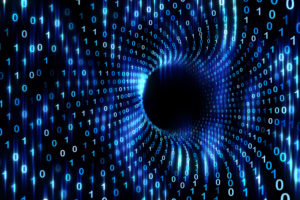 "0" and "1" – the binary language of computers feels like it's seeping into society at large.
Over the past couple of weeks, so many of the high-profile and vital current events and choices we're dealing with feel like they're becoming binary – that is "either/or."
For example, a number of people are talking about:
We focus on the invisible pandemic of the covid19 virus, or we watch years of videos of black people being killed, the ongoing pandemic we haven't addressed.
We, especially those in leadership, speak up, even though we run the risk of saying something perceived as insensitive and unempathetic about hot-button issues, or we stay silent and become complicit.
We show more humanity at work, or we try to hide our fear, rage, guilt and a whole range of other emotions about race, discrimination and authority figures who have lost our trust.
We sympathize with small businesses being damaged during riots or we stand up and protest police brutality, racial disparities and social injustice.
We try to address 400 years of structural and systemic racism or we say we'll make a fresh start and treat everyone more fairly now.
By talking about these vital societal issues as "either/or" binary choices, we're putting ourselves in boxes, which is dangerous.
Compartmentalizing gets us stuck into believing we have to toggle between two options, often extremes. And worse, we start to think that we have to take sides – that is, you're with me or you're against me from the vantage of your in-group versus others' out-group. Also alarming, we lose sight of important details, nuances, and the complexity.
Instead, we need to acknowledge and respect that within each of these points of view, worthwhile elements can exist, especially depending on the context.
And even more importantly, we need to expand our thinking, our experiences, and our connections with others so we can collaborate to create new and better ways of being and doing things.
What got me thinking about how we need to overcome the trap of binary thinking? Hearing the Harlem Gospel Choir sing Amazing Grace in a CNN tribute to Covid19 victims the weekend after the brutal police killing of George Floyd.
The complicated history of this famous hymn breaks a number of preconceived notions about human beings and can make your head spin. The history also can teach us lessons for today about coming together to solve problems.
The Englishman John Newton who wrote the song's original lyrics was a slave trader. On his frequent visits to Charleston, SC, the major US port for slave trading, Newton worshipped at the Circular Congregational Church. He later became an Anglican priest.
The song was never very popular in England. But Americans, black and white, embraced it in the early 1800s. And about 165 years later the song became an anthem of the civil rights movement, even though a slave trader wrote the song.
We listen to the song for its ability to speak to and address deep human suffering. The power of this song – with both its music and its lyrics – stands on its own. The song is not associated with any particular religion, race or other cultural context.
Hearing Amazing Grace in tense times like these helps us deal with our pain and gives us hope for the present and the future.
As the song lyric says, I "was blind but now I see." From a personal perspective, I've started getting greater clarity about the United States' tortured history with race after moving to Charleston in 2014. One year later, Walter Scott's killing by a policeman was caught on video. Just two months later the white supremist killed nine members during Bible Study at the Mother Emanuel Church.
Before these horrific events, I wasn't aware of how limited my American history was, based on my Oklahoma public-school education. In school we studied the Trail of Tears, but not the 1921 Tulsa race massacre. Nor did we talk about the racial inequities and conversely the white advantages and privileges built into the fabric of this country. Many textbooks in other states haven't touched these topics either.
My recent education has come from attending the excellent Racial Equity Institute training, participating in ACLU programming, and hearing Jeffery Robinson, the ACLU Deputy Legal Director and Director of the Trone Center for Justice and Equality. He shared how he as an African American man discovered his education had been void of so much about the African-American history in the US.
Last year through the Next Big Idea Club, I read Dr. Jennifer Eberhardt's book Biased: Uncovering the Hidden Prejudice That Shapes What We See, Think, and Do just as the Police Department in the City of Charleston was voluntarily completing its racial bias audit. When the report was released, the police convened community meetings to discuss the multitude of racial disparities around policing and how the police and the community could work together to address them.
All of my recent learning has confirmed that as a society we have deep structural problems that thoughts and prayers cannot fix.
Along with many others, I'm hoping these widespread protests will serve as the catalyst to take action and address police brutality, our flawed criminal justice system, economic inequities, and other social injustices. Silence and denial are not options. Black Lives Matter. Blacks as well as all people of color deserve equitable treatment.
We need to embrace our humanity that serves all of us, not just some of us. What are you doing to help?