How to start cultivating your communication habit

Our superpower as humans – our ability to communicate – is a blessing and a curse.
The blessing: We present our thoughts, concerns and wants and needs to others.
The curse: Yet even with the help of sophisticated devices, we still misspeak, misread, and make countless other communication mistakes that result in faulty work and hurt feelings.
And the chances for communication mishaps keeps climbing in our VUCA world. Since we can't do everything on our own, we've got to connect, coordinate, and collaborate with other humans. Yes, this means we've got to work with and depend on others to get work done.
And if we want to get work done right the first time, we've got to avoid and prevent communication mishaps.
How do stop miscommunicating? And even better, how do we turn communication into a reliable and consistent superpower?
The solution: Cultivate a strong communication habit that works for all.   
The Habits Crew (Liz, Jim, and Sam) will show you how. As a result, you'll stop sowing unintentional havoc. Instead, you'll channel your superpower for good.
Imagine the difference: improved performance, enhanced working relationships, and easier navigation in our VUCA world.
Our upcoming book, Cultivating Your Communication Habit: How to reduce the ambiguity, friction and errors we experience interacting in a VUCA world will show you the way. The book is focused primarily on developing deliberate communication habits at work; however, many are also applicable for our personal lives.
Meanwhile, you can start cultivating your communication habit by signing up for our email list. You'll receive links to our webinars, blog posts and articles as well as updates on our book. You also can join our LinkedIn Group, The Communication Habit.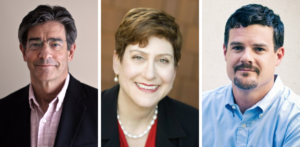 The Habits Crew is the collaboration of Sam Yankelevitch, Liz Guthridge, and Jim Thompson.

Liz Guthridge is an executive coach who helps leaders at all levels build better habits, improve their communication and become more accountable to themselves and their teams. She's passionate about behavior design, lean communications® and neuroscience.
Jim Thompson is a consultant and educator who teaches current and future business leaders how to find money, reduce risk, build a lean culture, improve quality, and create a great place to work.
Sam Yankelevitch is an engineer turned coach, trainer and author who helps business leaders and multicultural teams work better together to solve problems. His books include Walking the Invisible Gemba: Discover the Hidden Link Between Communication and Quality and Global Lean: Seeing the New Waste Rooted in Communication, Distance, and Culture.