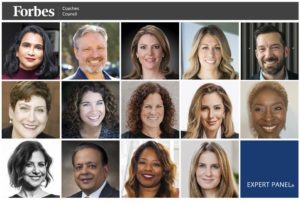 In this expert panel from the Forbes Coaches Council, 14 of us shared daily habits that "inspire you and keep you centered on what matters most." These habits "can also help you become a more effective leader."
My suggested habit, #6 on the list, is to listen outside of your echo chamber. Specifically it's to "listen intentionally and deeply to at least one person outside of your echo chamber."
The purpose of this daily habit "helps you to hear a variety of voices, which can influence your thinking and actions. With this habit, you also demonstrate that you care and are interested in all individuals, including those who may have different experiences, perspectives and preferences from the usual suspects" you talk with and consult.
This habit may not be as inspiring as some of the others on the list; however, I believe it's critical for leaders to be intentional, especially around being inquisitive and inclusive.
For all 14 habits, check out 14 daily habits that every business leader should adopt, which Forbes posted online on Jan. 11, 2021.
.